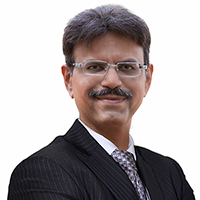 Pashminu Mansukhani is a Navi Mumbai-based avid nature photographer by passion. Professionally, he is an online marketing expert and corporate photographer. He has been deeply rooted in digital photography since 2001 when his doting father gifted him a 2 Mega Pixel Kodak digital camera.
A post-graduate in Computer Science, Pashminu embarked on his professional industrial photography career in 2008 when he undertook an industrial photography project for SONY India Ltd's new plant in Navi Mumbai. The management of SONY India Ltd. was highly impressed by his passion and deep understanding of various aspects of photography.
Pashminu loves to shoot macro as well as wide angle images and digitally stitch 180 degrees panoramic landscapes with a full frame 20 mega pixel Canon 6D camera .
Having covered pan-India industrial photography projects for a variety of clients, Pashminu then expanded his experience by travelling to Ethiopia in 2013. There he skillfully executed an industrial photography assignment to extensively cover two sugar factories built by Indian skilled manpower and experts.
Pashminu undertakes professional jewellery photography, product photography and industrial photography projects in Mumbai.
Multi-talented Pashminu is an avid reader, designs new age HTML 5 responsive websites, does online marketing for his select clientele, runs his own blog and his company aptly named Digital Studio (www.digitalstudio.in).
Studio » C305, Balaji Tower, Vashi Sector 30A, Navi Mumbai 400 705. India
Pashminu is happily married to gene therapy researcher Nirmala and is blessed with a school-going son, Aakash. Forever enthusiastic and open to taking on new challenges, Pashminu greets every day with a smile.
Memberships »
National Geographic Society
Canon Professional Network
Exhbitions »
10 Days Solo Exhibition at NCPA; Piramal Art Gallery - June 2016.
Kalanand Exhibition - March 2016.
Kala Godha Arts Festival - Feb. 2016.
Awards »
Winner (3rd place) in Emerging Artists of 2016 by Prafulla Dahanukar Arts Foundation.
Winner (3rd place) in Architechtural Photography Contest by Adhiraj Builders Ltd. - 2015.
Photograph of the Week Contest - Hindustan Times KGAF 2015.
Published several times in Hindustan Times & DNA newspapers.
Published regularly in publications like Better Photography.
Achievements »
Kala Godha Arts Festival 2016
3rd Prize: Prafulla Dahanukar Art Foundation
3rd Prize: Adhiraj Builders Ltd.
National Geographic Society Member